Roy Keane: Manchester United's No. 16.
Was he the best midfielder and captain in Manchester United history?
If someone asked you to describe Keane using just a solitary word, it would be nigh-on impossible. The man is an enigma. The common consensus in world football, however, was that, in his pomp, he was the perfect box-to-box midfielder.
He could tackle, he could pass, he could head, he could shoot—he could do everything a true box-to-box midfielder would ever wish to perfect in their game. He was superb in his role of being the box-to-box midfielder, the main man in the middle of midfield.
World class?
Yes, without a second thought—but that's not all he offered. In fact, it pales in comparison to what Keane truly offered to Manchester United. After United had lost the best center forward to ever grace their club in Eric Cantona (who was also captain and leader in chief), Keane slotted right in to the side and instilled the very same "team spirit" that is entwined with the club in the present day.
In truth, Keane was the man and captain who introduced this way of thinking in his leadership, and in what is a true testament to him, that spirit is still visible in Manchester United during the 2011 season.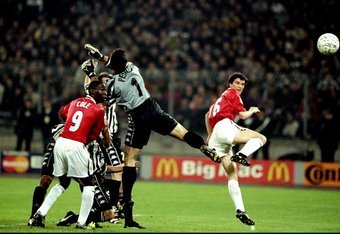 Pictued above: Manchester United receive a lifeline via the head of Roy Keane. (From "that" night in Turin.)
Ross Kinnaird/Getty Images
The leader, the captain and the man you would look to for inspiration—that was Roy Keane.

Keane always led from the front. He'd inspire his teammates to give 100 percent (while he himself was giving 110 percent) in every single game. A great example (perhaps the best one there is) of his inspirational leadership came in that famous Champions League semifinal in Turin from that season.
Down 1-3 on aggregate, possessing the knowledge that even if United produced a miracle to make the Champions League Final, he himself would be sitting out because of the suspension he had picked up earlier, even he could be forgiven for shutting up shop and letting it go. Putting in a 7/10 run-of-the-mill performance is what many a player would do, without copping the tiniest bit of criticism.
Not Keane. Not the Captain of Manchester United.
That just wasn't him. He produced a performance that ranks alongside some of the greatest any Manchester United player has ever produced. Wearing his heart on his sleeve, he rose high and headed the ball in to the back of the net, shifting the momentum towards his side, and in turn, changing the complexion of the match. Keane spurred on his teammates with last-ditch challenges, non-stop running, killer passes and his continued efforts to never say die.

The skipper led his team from the front and brought them back from the brink yet again. He rallied the troops, and before anyone could blink, Manchester United were on their way to Barcelona to play for the Treble.

How would United have finished up that season had it not been for that goal?
There would be no Treble (winning the Premier League, FA Cup and UEFA Champions League all in the one season); I guarantee you that much. It is very conceivable to speculate United may have ended that season trophy-less. It's just testament to what Roy Keane offered United, especially in that season of seasons. A typical Roy Keane performance, if there was ever one.

He was loyal to his teammates, intimidating towards his opponents and a winner to the rest of the world.

Ask any teammate Keane has ever played alongside, and with the utmost confidence and certainty, it would be a guarantee that they would simply confirm the actuality of these words. Stepping on to that pitch and having Keane by your side; that in itself would be a massive confidence boost to any player, and as such, would immediately improve said player's performance.
That is a priceless quality to have in and around your club.
Anyone that dared pose a physical or, indeed, mental threat to Keane or one of his 10 comrades on the pitch ended up regretting it. Just look at Patrick Vieira at the old Highbury (Arsenal's former home ground) half a decade ago. Vieira attempted to intimidate right back Gary Neville, warning him not to come within three feet of Jose Antonio Reyes' legs or he'd be in trouble.

What was to follow?

Keane chased the French international and fellow renowned hard man up the tunnel, sending the Arsenal Captain to the back of it. Keane struck fear into the hearts of each man in that Arsenal side on the day.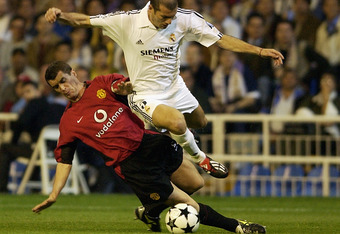 Pictured above: Epitomising his determination, Roy Keane 'goes to ground' and tackles Zinedine Zidane.
Shaun Botterill/Getty Images
Vieira retreated with his tail between his legs, and Keane's now infamous "I'll see you out there" quote, coupled with his vicious stare, was enough to shake that Arsenal team as Keane's Manchester United comfortably won the day.
That psychological tormentor characteristic that Keane possessed not only contributed enough to give his team a 2-4 win at Highbury, but it also contributed enough over the years to give United countless victories at Fortress Old Trafford.
As an ex-opponent once said, "With Keane in that side, teams (including ours) were already beaten when they stepped onto Old Trafford: it was just a matter of by how many."

Winning mentality and mental toughness were two major components of Keane's psychological game. The winning mentality that United can boast today also comes back to when Keane and Sir Alex combined to instill that very quality only years ago.

Keane's attitude in football was committed; it was beyond passionate and definitely second to none. He was the perfect captain. His attitude towards officials and opponents, while often controversial, was what gave his side the extra edge in tight matches.
This attitude led Manchester United to many wins and was a brilliant tactical calculation on Keane's part. His toughness when confronting any football player in the world was also a tribute to his character.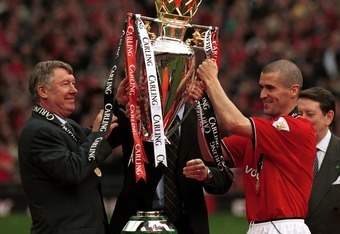 Pictured above: Roy Keane brought Sir Alex Ferguson many a success while captain and midfield general for Manchester United.
Stu Forster/Getty Images
I don't think anyone can name one player that would be up to stepping onto that pitch and taking "Keano" on, one-on-one in his prime. His mentality once he stepped onto the park was simply astounding. He shut all the outside off, he shut the crowd off (especially when playing away) and led from the front.

Keane's attitude towards the game epitomises Manchester United—and for awhile, it was he who almost solely carried the Red Devils.

Stuck in, hard working and full of emotion, full of fight, Keane was always there for the man next to him, willing to go that extra yard if it meant the difference between winning and losing. That was Keane.
He might not have had Bryan Robson's flair or Eric Cantona's skill. He might not have passed as gracefully as Bobby Charlton or flowed as freely as Georgie Best, but anyone would be hard pressed to honestly say any of the aforementioned players gave more effort to every game than Keane. His hard work and work rate just typified Manchester United—holding an amazing appetite to win, as well as a profound hate of losing.
Perhaps he's made some mistakes before, and he is the first to admit that, but which footballer hasn't? That shouldn't deteriorate from his standing on the pecking order of the All-Time Manchester United greats. And you know what? It doesn't.

In what is perhaps the biggest compliment he would accept, I close with a quote Sir Alex Ferguson said of Keane, paying homage to the greatest Irish midfielder that ever laced up a pair of boots:
"Roy Keane is one of the first names on the team sheet for my Manchester United all time XI, and that is not blowing smoke up Roy's backside—that's just what he brought to the table."