Greg Stobart of Goal.com writes of
the continuing influence of Ryan Giggs
, who embodies the experience, fierce desire and class of Manchester United's treble chase. Giggs was a standout in United's 2-1 victory over Chelsea yesterday that propelled his side into the UEFA Champions League semifinals.
Sir Alex Ferguson
has always insisted that
Manchester United
's treble triumph in 1999 was a one-off, freakish season of glory that could not be repeated. Now, the prospect of again winning the
Champions League
, the
Premier League
and the
FA Cup
in the same campaign appears a tantalisingly realistic possibility.
A strange start to the season saw United continually stutter and start, failing to find any rhythm as they relied on an unstoppable desire to win to secure unlikely wins that none of their Premier League rivals seem capable of.
The United players were careful after Tuesday night's Champions League quarter-final triumph over Chelsea not to indulge in talk about winning all three competitions, ready for the question from the media and happy to wheel out 'one game at a time' soundbites.
Yet now they are only a matter of games from repeating their feat of 12 years ago and Ferguson will privately consider it entirely possible. The Scot's side are seven points clear at the summit of the Premier League with six games to play and Saturday's FA Cup semi-final derby against Manchester City – true, it won't be easy – is likely to be more difficult than a potential final appearance against Stoke or Bolton next month.
The toughest challenge would be to beat one of the Spanish
giants
, Real Madrid or Barcelona, in the Champions League final assuming they get through their semi-final clash, which is most likely to be against Schalke, the surprise package of this year's competition. In a one-off game, however, anything is possible and United would like nothing better than to win the trophy on home soil at Wembley, a place they've become familiar with since its opening.
They also have a couple of players who will remember how to win a treble and experienced professionals throughout the squad who are used to having to extend their trophy cabinet every year at a club where success is an expectation. This side may not share the swashbuckling glamour of the 1999 team, but in Ryan Giggs they have a man who embodies the quality and personality it takes to thrive at the most famous club in England.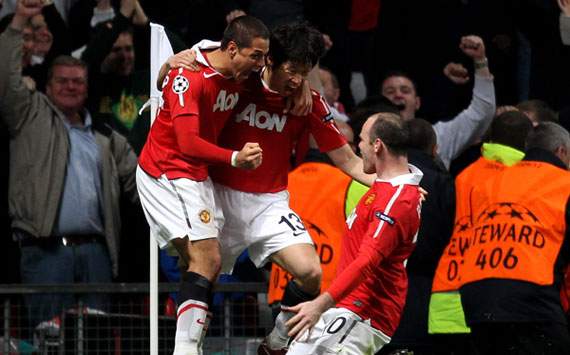 Treble Triumph? | United players celebrate Park Ji-Sung's winner against Chelsea
Giggs was an electric winger 12 years ago but against Chelsea he produced a display of astonishing astuteness and poise, defying his age to pull the strings for the hosts in central midfield alongside Michael Carrick, just as he did in the first leg. He has adapted the game to suit his age and his legs, transforming himself into a playmaker and more economic in his movement as he uses his incredible intelligence.
The 37-year-old rewarded Ferguson's limitless faith in him with inch-perfect passes for United's two goals of the night; first using vision and precision to present Javier Hernandez with a tap-in and then producing a clever flick for Park Ji-Sung's decisive strike.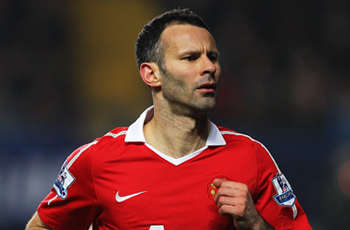 "At the heart of Giggs' brilliance is his imperious passing, his ability to spray the ball 60 yards with as much adroitness and accuracy as he can slip in a ball to put Hernandez or Wayne Rooney one-on-one with the goalkeeper"
It meant that the Welshman was the provider of all three United goals over the two legs with Carlo Ancelotti's men after his wonderful control and pass set up Wayne Rooney for the only goal at Stamford Bridge.
It is remarkable to see how effective Giggs has become as the creative innovator of the United side and almost impossible to believe that a player in such good form – and with so much still to offer – could be retiring at the end of next season.
In a career spanning more than two decades, Giggs has won every trophy you could wish to dream of. There is nothing in the game he hasn't seen. The only two players still in the game who can boast similar longevity and success at the very highest level are Raul and Clarence Seedorf.
At the heart of Giggs' brilliance is his imperious passing, his ability to spray the ball 60 yards with as much adroitness and accuracy as he can slip in a ball to put Hernandez or Wayne Rooney one-on-one with the goalkeeper.
But he matches his ability with tireless work-rate and was always ready to hassle and harry Chelsea players, to deny them time and space on the ball. "Giggs is the kind of player Chelsea need but don't have," one Blues fan told me after the game. Every side in the country would want Giggs in their team.