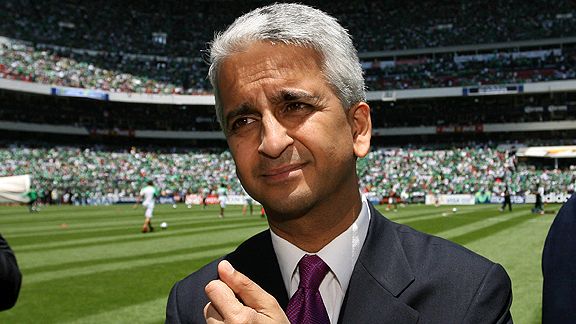 Brent Latham blogs of
the role that US Soccer president Sunil Gulati plays in our player development philosophy.
"There are many complexities to our situation," Gulati said in a recent phone interview. "That might or might not be a disadvantage, but you've also got many advantages. Obviously you've got hundreds of millions people in the U.S., so the size of the country can be a challenge when you're trying to get teams together. But it's one that we've had for a long time. The importance and role of education, both university and secondary schools, in the U.S. is a huge challenge -- a huge positive to the country -- but a challenge in terms of bringing together youth players. So the programs that we've had for many years try to adapt to that."
Of course, five years as the head of the USSF have not endeared Gulati to everyone -- some would clearly prefer a little more risk-taking at the top. Gulati is instead a rational-minded strategic thinker, more likely to be profiled in the Wall Street Journal than on your favorite soccer blog.
The result has been a series of measures true to Gulati's background in economics, incorporating long-term probabilities for the success of the game in the U.S. rather than hopefully grasping at short-term fixes. That goes for the well-critiqued decisions to hire and retain Bob Bradley as head coach, as well as broader development-oriented initiatives.
But that long-term perspective doesn't mean Gulati doesn't also want American teams to win sooner rather than later. Consider for example his balanced stance on the never-ending debate on results versus development at the youth soccer level.
"It's a debate and discussion that's been going on since I've been involved, and it's also a debate and discussion that goes on in 150 different countries," he said. "Pretty clearly at the youth level the primary motivation has to be about development. But as you get to world championships, it really doesn't matter what the philosophy of those of us back in the U.S. is. The players want to win, and the coaches want to win, and that's understandable.
"So I don't think the two are mutually exclusive at all. But clearly what we do is emphasize long-term development. I don't think that's necessarily inconsistent with, at a very high, elite level, also wanting to win games. All of our coaches understand that; I don't think we sacrifice development wanting to win. But the primary motivation has to be development."
Where the youth game is concerned, the Gulati regime has overseen some refreshing changes to what was a stale developmental structure, including the creation of a youth technical director post for former U.S. captain Claudio Reyna, and the founding of the development academy, incorporating dozens of the country's top youth clubs into a nationwide league where more prospects can be seen by scouts.
With those successes, and a constantly growing stream of talented young players, come higher expectations on the field -- hopes that are not only shared by Gulati, but also weigh on his decisions. The federation chief was forced to make a tough, results-oriented choice to let go long-time coach Thomas Rongen when the U-20s failed to reach this year's World Cup. With the U-17 World Cup now on the horizon, he sounds like a boss who will be keeping one eye on the scoreline, even if the emphasis remains on player development.
"Whether wins and losses are important is a side matter," Gulati said. "It is a way you evaluate the program, because for a coach to say, 'listen, we didn't win any games along the way but I think we've developed a lot of good players,' well, you don't have a perfect measure of that until three, four, five, or even seven, eight years later. Unfortunately in the sort of environment in which we live, coaches don't generally get that long to see their results come to fruition."