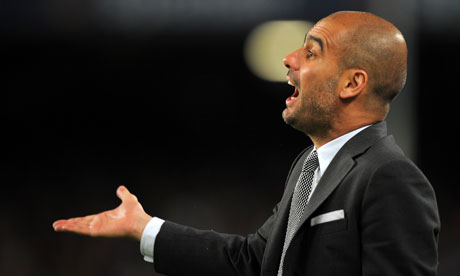 The
Barcelona
coach Pep Guardiola has compared
Manchester United
to Real Madrid ahead of his side's
Champions League
final meeting with United at Wembley this month.
Barça, like United, have won their domestic title and can now focus on the London final on 28 May.
The match is a repeat of the 2009 final, which Barça won 2-0 after a dominant display in Rome. But Guardiola expects a more difficult game this time around. "Manchester United are extraordinarily strong, very similar to Real Madrid," he said. "They are a hard-working side and it's very hard to hurt them."
The Barcelona coach admitted he is concerned by United's counterattacking ability. "We have to be very careful because they can score against you on the break. We have to know how to interpret the final, depending on how they play, and play the game on our terms."
Guardiola picked an experimental side in Barcelona's La Liga match at home to Deportivo La Coruña on Sunday night and watched his young players draw 0-0 with the relegation-threatened Galician club. "The young players did well. I am happy with them and I chose to rest a lot of the others because the most important thing now is to prepare for the final," he said.