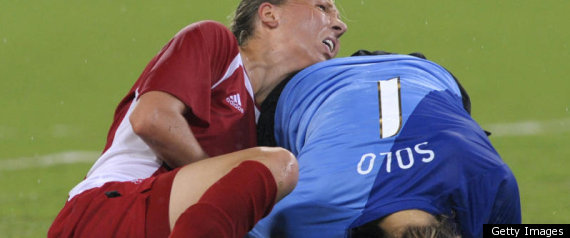 Turns out that when it comes to sports injuries, women aren't faking it.

Female soccer players are half as likely to fake an injury as their male counterparts, according to a study from the Wake Forest Baptist Medical Center.
Published in the July edition of Research in Sports Medicine, the study reviewed 47 televised matches from two international women's tournaments, dividing all apparent injuries into "definite" -- those when a player left the field within five minutes or was visibly bleeding -- with the rest being classified as questionable.
The research found a rate of 0.78 definite injuries per match and 4.96 questionable injuries per women's match.
According to the press release:
[The] research indicates that apparent injury incidents for women are much less frequent than for men, however, occurring at a rate of 5.74 per match as compared to 11.26 per men's match. The proportion of apparent injuries that were classified as "definite" was nearly twice as high for women, 13.7 percent, as compared to 7.2 percent for men.
"It is clear from this study that female players don't fake injuries at the same rate as their male counterparts," said Daryl Rosenbaum, an assistant professor of Family and Community Medicine at Wake Forest Baptist.
Rosenbaum hopes that the study will help FIFA and those monitoring "injury simulation" issues tainting professional soccer focus their efforts on addressing the issue.